Release Notes is our regular update that highlights the product improvements we've made, so you can easily stay up to date on what's new. Here's what we launched as part of version 1.6.0.
Engage
When working on a message in Engage you can rest assured knowing your messages is now auto-saved as you work away. If you accidentally close your browser or your computer turns off no problem you won't have lost more than 15 seconds work. Watch out for message "Your changes have been saved" in the toolbar on the top right.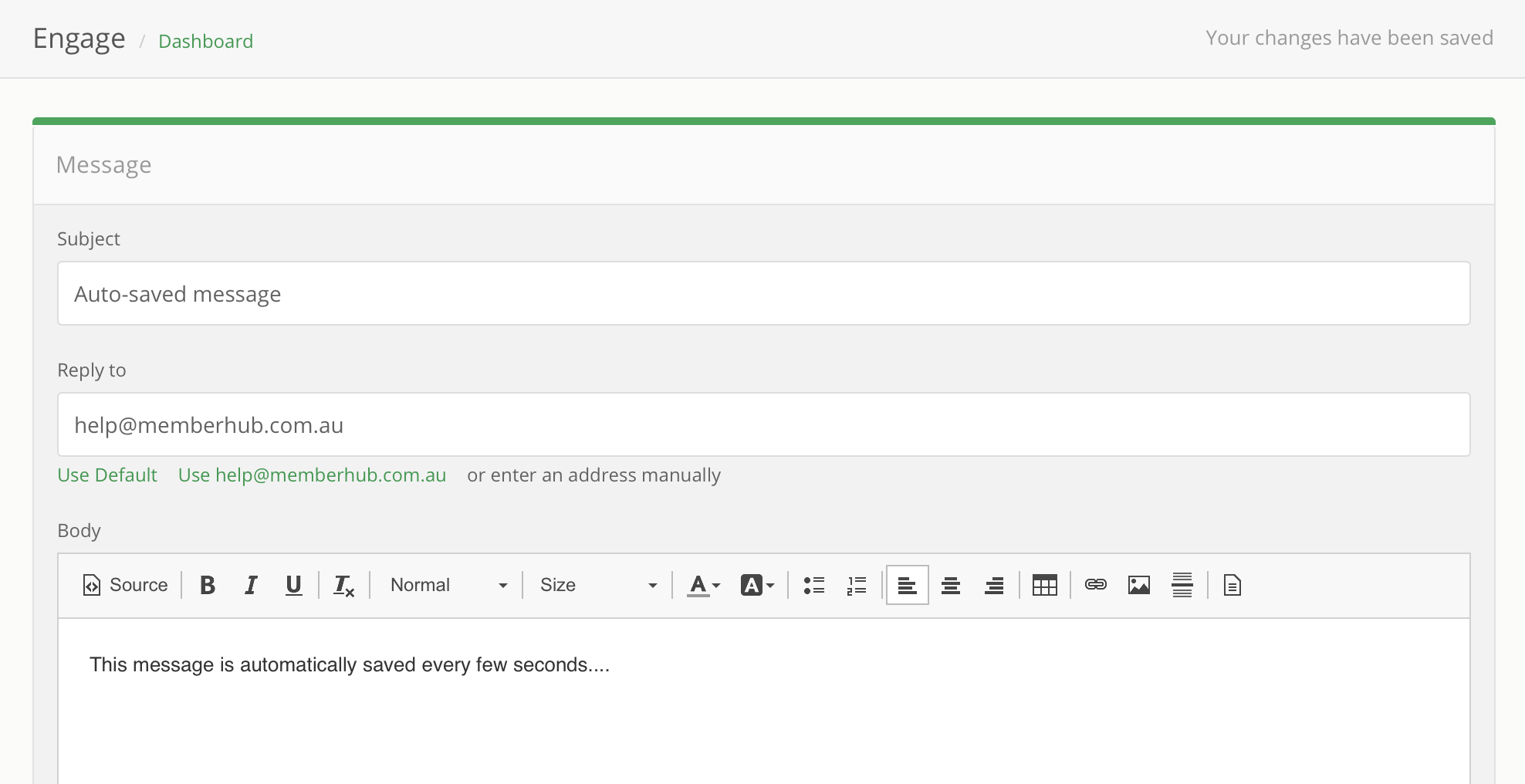 You can also duplicate a message, this will allow you to edit the message if you need and then select new recipients before sending. Alternatively you can turn a message into a template if you find yourself duplicating a message over and over again.
You can also duplicate message templates now.
Generally Speaking
You may have noticed it has been a while since our last update, this doesn't mean we haven't been working away with over 35 minor releases and thousands of small changes and bug fixes. Some of the notable changes include:
New supported bluetooth barcode scanners for computer, mobile phone and tablets.
We have switched over to an Australia SMS provider and reduced the cost.
You can configure your SMS to include a prefix such as your agency abbreviation and todays date.
People with Manage access can now create uniform orders on behalf of a member.
When you create calendar events spanning multiple days, these will show in the kiosk for the duration.
A reporting period has been added to the Manage dashboard allowing you to quickly change between this month, last month, last 3, 6 and 12 months.
CSV/Excel exports with a duration column have been changed to minutes, making it easier to create custom reports in Excel.
When a parent account is being used we now have a change allowing Unit combined calendar feeds or just Unit calendar feed.
Re-written the login process to include enhanced security measures.
Improved locked & suspended account notifications.
We have also started working on a whole new version of Member Hub. The current version will continue to be supported and for a short time new features will continue to be added. Eventually our focus will shift to the new version and only security and bug fixes will be applied.
We will be looking to have a small group of early adopters that will assist with the direction and testing. This will not impact your existing Member Hub account or data. If you're interested in being part of this please let us know.
What do you think?
Thank you for your continued support and feedback.
Let us know what you think on Facebook or by email. We love hearing from you with feedback and new ideas.